Posts for tag: tooth wear
By Applewood Dental
January 23, 2016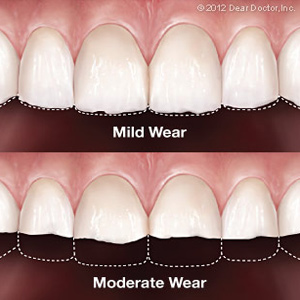 Teeth are naturally strong and durable — if we can prevent or control dental disease like tooth decay or gum disease, they can last a lifetime. Still, teeth do wear gradually as we age, a fact we must factor into our dental care as we grow older.
Sometimes, though, the wear rate can accelerate and lead to problems much earlier — even tooth loss. There are generally four ways this abnormal wear can occur.
Tooth to tooth contact. Attrition usually results from habitual teeth grinding or clenching that are well beyond normal tooth contact. Also known as bruxism, these habits may occur unconsciously, often while you sleep. Treatments for bruxism include an occlusal guard worn to prevent tooth to tooth contact, orthodontic treatment, medication, biofeedback or psychological counseling to improve stress coping skills.
Teeth and hard material contact. Bruxism causes abrasion when our teeth regularly bite on hard materials such as pencils, nails, or bobby pins. The constant contact with these and other abrasive surfaces will cause the enamel to erode. Again, learning to cope with stress and breaking the bruxism habit will help preserve the remaining enamel.
Chronic acid. A high level of acid from foods we eat or drink can erode tooth enamel. Saliva naturally neutralizes this acid and restores the mouth to a neutral pH, usually within thirty minutes to an hour after eating. But if you're constantly snacking on acidic foods and beverages, saliva's buffering ability can't keep up. To avoid this situation, refrain from constant snacking and limit acidic beverages like sodas or sports drinks to mealtimes. Extreme cases of gastric reflux disease may also disrupt your mouth's pH — seek treatment from your medical doctor if you're having related symptoms.
Enamel loss at the gumline. Also known as abfraction, this enamel loss is often caused by receding gums that expose more of the tooth below the enamel, which can lead to its erosion. Preventing and treating gum disease (the leading cause of receding gums) and proper oral hygiene will lower your risks of receding gums and protect tooth enamel.
If you would like more information on tooth wear, please contact us or schedule an appointment for a consultation. You can also learn more about this topic by reading the Dear Doctor magazine article "How and Why Teeth Wear."
By Applewood Dental
February 15, 2013
If your teeth have a worn appearance, it's possible you have a habit you're not even aware of: clenching or grinding your teeth. Also called "bruxism," this destructive action causes your top and bottom teeth to come together or scrape past each other with a force that's many times what is normal for biting and chewing.
So what's normal? This can be expressed in terms of pounds. An adult usually exerts a force of 13-23 pounds to bite or chew food. But we have the potential to generate as much as 230 pounds of force, or 10 times what's normal. A "parafunctional" force of this magnitude applied repeatedly is bound to stress your teeth and other areas of your oral system. Besides wearing away the enamel of your teeth — and maybe even some of the softer dentin layer underneath — you may experience muscle spasms or pain in your jaw joints. Serious cases of wear can lead to "bite collapse" in which your face actually changes shape as your cheeks and lips lose support. This can make you look prematurely aged.
What can be done? To prevent further wear, we can fabricate for you a thin, plastic mouthguard that will protect your teeth at night or during times of intense stress. We can also recommend ways to temporarily relieve the discomfort that your grinding/clenching habits can cause. Heat and/or anti-inflammatory medication, for example, can be helpful.
If your tooth wear is minor (raggedness along the biting edge of a tooth or teeth) you may not need any restorative work. However, if tooth wear has already caused changes to your teeth and bite that you find aesthetically or functionally unacceptable, we can restore lost tooth structure in a variety of ways. Veneers and crowns are two examples.
If you have any questions about tooth wear or grinding habits, please contact us today to schedule an appointment for a consultation. You can learn more about this topic by reading the Dear Doctor magazine article "How And Why Teeth Wear."