Posts for tag: sensitive teeth
By Applewood Dental
May 11, 2021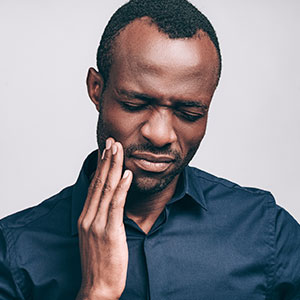 A scoop of ice cream is one of life's little pleasures. But for one in three Americans, it could be something altogether different—an excruciating pain when cold ice cream meets teeth. This short but painful experience that can happen when dental nerves encounter hot or cold temperatures is called tooth sensitivity.
A look at tooth anatomy will help explain why. Teeth are mainly composed of outer enamel, a layer of nerves and blood vessels within the tooth called the pulp, and dentin, a porous layer in between. The pulp nerves pick up temperature and pressure sensations from outside the teeth through a network of tiny passageways (tubules) in the dentin. Enamel muffles these sensations before traveling the tubules, which prevents overstimulation of the nerves.
This careful balance can be disrupted, however, if the enamel becomes eroded by acid from foods or beverages, or as a byproduct of bacteria. This exposes the underlying dentin to the full brunt of outward sensations, which can then impact the nerves and cause them to overreact.
This hyper-sensitivity can also occur around the tooth roots, but for a different reason. Because the gums primarily protect this area rather than enamel, the roots can become hyper-sensitive if they lose gum coverage, a condition known as gum recession caused mainly by gum disease or over-aggressive hygiene.
Besides using dental products that block nerve sensation, reducing sensitivity largely depends on addressing the underlying cause. If gum disease, the focus is on removing plaque, a bacterial film on dental surfaces that causes and sustains the disease. Stopping an infection allows the gums to heal and hopefully regain their original teeth coverage. More advanced cases, though, may require grafting surgery to foster gum regeneration.
If the cause is enamel erosion or other results of decay or trauma, we can utilize a number of treatments depending on the extent of tooth damage including cavity filling, root canal therapy or crowning. As a last resort, we may need to remove a tooth that's beyond reasonable repair.
If you've begun to experience sensitive teeth, it's important that you see us as soon as possible. The earlier we can diagnose the cause, the less invasive we can be with treatments to ease or even stop this most unpleasant experience.
If you would like more information on tooth sensitivity, please contact us or schedule an appointment for a consultation. You can also learn more about this topic by reading the Dear Doctor magazine article "Treatment of Tooth Sensitivity."
By Applewood Dental
October 01, 2015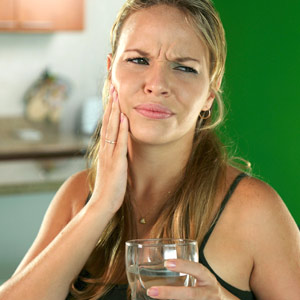 You may be among the one in three Americans who suffer from the pain of tooth sensitivity. Before attempting treatment, though, we must first identify the cause.
Your teeth are made of layers of different organic tissue. The pulp at the center of the tooth contains nerves that transmit pain or pressure sensation to the brain. The pulp is encased by dentin, a layer of tissue composed of tiny tubules that conduct temperature and pressure changes from outside the tooth to the pulp nerves. The hard outer enamel shell shields the dentin from over-stimulation from these sensations.
There are, however, some instances where the dentin may become exposed and cause sensitivity in the tooth. This can occur when the gum tissue recedes and the root of the tooth is exposed to the oral environment. If the root loses its surface coating (referred to as cementum, a cement-like outer layer around the root surfaces) because of over-aggressive brushing (too hard for too long) or advanced periodontal (gum) disease, sensitivity is often the result.
Another instance is enamel erosion. Although made of the hardest substance in the human body, enamel has one major enemy — acid. A high oral acid level brought on by over-consuming acidic foods and beverages or as a symptom of gastric reflux disease dissolves (de-mineralizes) the enamel's mineral content. Brushing just after eating actually contributes to de-mineralization because the enamel is in a softer state. It requires forty-five minutes to an hour for your saliva to neutralize acid and restore minerals to the enamel — you may actually be brushing away enamel with this practice.
Once we know the underlying cause, we can use an appropriate method to reduce sensitivity. One way is to reduce nerve sensitivity in the dentin's tubules or block them altogether. There are several chemical products for both home and dental office application that can reduce sensitivity and encourage enamel re-mineralization (as can the fluoride added to toothpaste). We can also strengthen enamel and provide a mechanical barrier to acid through concentrated fluoride in a varnish applied to tooth and root surfaces. And, life-like restorations like crowns or veneers not only improve the appearance of your teeth, they can also provide coverage for exposed dentin.
If you are experiencing painful sensitivity, make an appointment to visit us. Once we know the source, we can treat the problem and reduce your discomfort.
If you would like more information on tooth sensitivity and how to treat it, please contact us or schedule an appointment for a consultation. You can also learn more about this topic by reading the Dear Doctor magazine article "Treatment of Tooth Sensitivity."
By Applewood Dental
January 05, 2013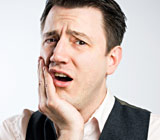 Tooth sensitivity is an issue that can range from a slight twinge at times to downright excruciating pain. However, before we continue, understanding the cause of tooth sensitivity is helpful to both relieving and treating it.
Tooth enamel is inert in that it has no nerve supply and thus it protects the teeth from temperature and pressure changes — the main cause of sensitivity. Once it is compromised, worn thin, or exposed due to gum recession, it leaves the delicate nerve fibers within the dentin vulnerable to touch, acid, and temperature change. These nerve fibers most often grab your attention when they come in contact with heat, cold, or a "double whammy" combination of both cold and sweet. They also become sensitive to touch — even the bristles of a soft toothbrush can irritate exposed dentin.
As for the causes of tooth sensitivity, one common cause we see is aggressive brushing. Yes, too much brushing can be bad for you! To be more specific, excessive, improper brushing with a sawing back and forth motion can erode the gum tissues, expose, wear, and even groove the dentin. Another cause for sensitivity can be from the destructive process of tooth decay that eats through the enamel and into the dentin.
If you are experiencing tooth sensitivity or have questions about this condition, please contact us to schedule an appointment. Or you can learn more about this topic by reading the Dear Doctor magazine article "Sensitive Teeth."