Posts for tag: dentures
By Applewood Dental
July 31, 2018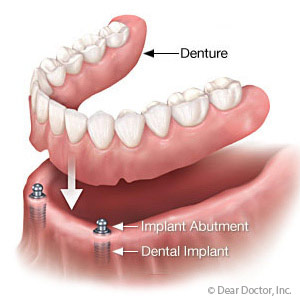 People who've lost all their teeth (a condition known as edentulism) face a decision on how to restore their lost function and appearance. And there are a number of options to consider.
A fixed bridge supported by dental implants, for example, is a good choice for patients who still have sufficient bone structure in their jaw. It's not a good choice, however, for those with the opposite situation — who've experienced significant bone loss which has also affected their facial structure. For them, there's a better alternative that also uses implants for support — the overdenture.
An overdenture is similar to a traditional denture, in that it's made of life-like crowns permanently set in denture plastic, and may either partially or fully cover the roof of the mouth. The main difference, though, is that unlike traditional dentures which rest for support on the gum ridges, an overdenture is supported by strategically placed implants that the denture fits over and connects to — hence the name "overdenture."
There are a number of advantages for an overdenture, especially for patients with bone loss. A removable, implant-supported denture can be designed to replace lost tissues that have altered facial appearance — to "fill in" the face and restore aesthetic harmony. Patients who've previously worn dentures will also often find their speech better improved than with fixed bridgework.
Because it's removable, an overdenture and the underlying gums are easier to clean, which helps inhibit disease and lessen further bone loss. It also allows you to properly care for the denture, which can extend its longevity and reduce future potential maintenance and replacement costs.
If you would like to consider removable overdentures as an option, you should begin first with a thorough oral exam that includes evaluating the status of your bone, jaw and facial structure. From there we can advise you if overdentures are the best choice for you.
If you would like more information on overdentures and other restoration options, please contact us or schedule an appointment for a consultation. You can also learn more about this topic by reading the Dear Doctor magazine article "Fixed vs. Removable."
By Applewood Dental
January 08, 2017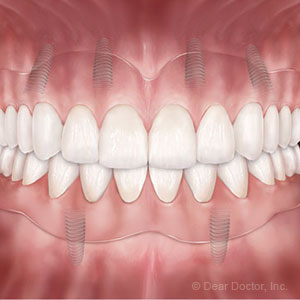 Not long ago, the most affordable option for total tooth loss was a removable denture. Dentures, prosthetic (false) teeth set in gum-colored acrylic plastic bases, can effectively restore function and appearance. But the appliance continues to have one major drawback: it can accelerate bone loss in the jaw.
Like other living tissues, older bone cells die and become absorbed into the body (resorption). Normally they're replaced by newer cells. The forces generated when we chew our food travel through the teeth to stimulate this new growth. This stimulus ends when we lose our teeth, and so cell replacement can slow to an abnormal rate. Eventually, this causes bone loss.
Removable dentures can't provide this stimulation. In fact, the pressure generated as they compress the gums' bony ridges can even accelerate bone loss. That's why over time a denture's fit can become loose and uncomfortable — the bone has shrunk and no longer matches the contours of the dentures.
In recent years, though, a new development has been able to provide greater support to dentures while at the same time slowing or even stopping bone loss. We can now support dentures with dental implants.
Implants are best known as individual tooth replacements: a titanium metal post replaces the root, while a life-like porcelain crown attaches to the post to replace the visible tooth. In addition to providing a longer-lasting alternative to removable dentures, implants provide a very important health benefit: they improve bone density because they mimic the function of natural teeth. Bone cells are naturally attracted to the titanium; they adhere to the titanium post and are stimulated to grow through the action of chewing, increasing bone density and securing the implant's hold in the jaw.
Using the same technology we can support removable dentures, or even full fixed bridges. Rather than rest directly on the bony ridges, a denture can make a secure connection through a coupling system with just a few strategically placed implants. We can also permanently attach a full bridge by fastening it to a few implants with screws.
Not only do we eliminate the pressure from dentures compressing the gums and bone tissue, we can actually stimulate bone growth with the implants. Although more costly upfront than traditional dentures, unlike traditional dentures which must be replaced every five to seven years, long-lasting implants may be more cost-effective over the long-run.
If you would like more information on implant-supported tooth replacement, please contact us or schedule an appointment for a consultation. You can also learn more about this topic by reading the Dear Doctor magazine article "New Teeth in One Day."
By Applewood Dental
April 30, 2016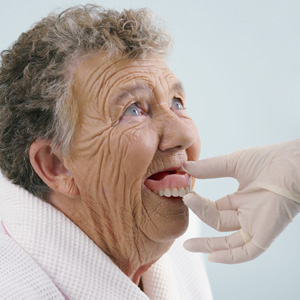 It's a common problem for denture wearers: after years of a comfortable fit, your dentures now seem to be uncomfortably loose. The reason, though, may have more to do with bone loss than the dentures.
Bone is a living tissue with a life cycle — it forms, it ages, and it eventually dies and dissolves (resorbs). It's replaced with new bone and the cycle repeats. Additionally, the forces generated when we bite or chew are transmitted from the teeth to the jaw, which helps stimulate new bone growth. When the natural teeth are missing, however, the bone no longer receives this stimulus. Resorbed bone isn't replaced at a healthy rate, which leads over time to bone loss.
Denture construction can also contribute to bone loss. The denture palate rests for support on the bony ridges that once held the teeth. Over time the compressive forces of the dentures apply damages and reduces the volume of gum tissue and eventually does the same to the bone. Combining all these factors, the reduced gum and bone volume will eventually alter the denture fit.
There are a few alternatives for correcting loose dentures. One is to reline them with new plastic, as either a temporary fix performed during an office visit or a more permanent relining that requires sending your dentures to a dental lab. Depending on the rate of bone loss, a patient could go through several denture relinings to accommodate ongoing changes in the jaw. At some point, though, it may be necessary to create a new set of dentures.
A third alternative that's becoming increasingly useful is to incorporate dental implants into the denture design. Implants can of course be used to replace individual teeth, but a few strategically placed implants (usually of smaller dimension) can serve as a support platform for a removable denture. This relieves some of the compression force of a traditionally worn denture and can slow bone loss.
If you're having problems with your denture fit, call us for an appointment. We'll help you decide on the best alternative to improving the fit and making your dentures more comfortable and secure.
If you would like more information on refitting loose dentures, please contact us today to schedule an appointment for a consultation. You can also learn more about this topic by reading the Dear Doctor magazine article "Loose Dentures."