Posts for tag: braces
By Applewood Dental
June 26, 2016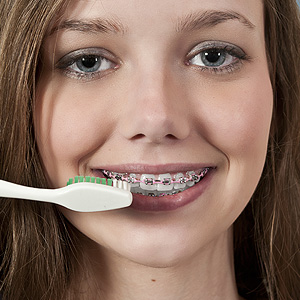 Your child has had braces for a few months and making good progress with correcting a poor bite (malocclusion), but you've also noticed something else: his gums are becoming red and swollen.
These are symptoms of gingivitis, a periodontal (gum) disease. It's an infection that arises when plaque, a thin film of bacteria and food particles, isn't adequately removed from teeth with daily brushing and flossing. The braces increase the risk for gingivitis.
This is because the hardware — metal or plastic brackets cemented to the teeth and joined together by metal bands — makes it more difficult to reach many areas of the teeth with a brush or floss string. The plaque left behind can trigger an infection that causes inflammation (swelling) and bleeding.
To exacerbate the situation, gums don't always take well to braces and can react by overgrowing. Wearing braces may also coincide with a teenager's surge in hormones that can accelerate the infection. Untreated, gingivitis can develop into advanced stages of disease that may eventually cause tooth loss. The effect is also heightened as we're orthodontically putting stress on teeth to move them.
You can stay ahead of gingivitis through extra diligence with daily hygiene, especially taking a little more time to adequately get to all tooth surfaces with your brush and floss. It may also help to switch to a motorized brush or one designed to work around braces. You can make flossing easier by using special threaders to get around the wires or a water flosser that removes plaque with a pulsating water stream.
And don't forget regular dental visits while wearing braces: we can monitor and treat overgrowth, perform thorough dental cleanings and treat occurrences of gingivitis. In some cases you may need to visit a periodontist, a specialist in gums and supporting teeth structures, for more advanced treatment. And if the disease becomes extensive, the braces may need to be removed temporarily to treat the gums and allow them to heal.
Orthodontic treatment is important for not only creating a new smile but also improving your teeth's function. Keeping a close eye out for gum disease will make sure it doesn't sidetrack your efforts in gaining straighter teeth.
If you would like more information on dental care during orthodontics, please contact us or schedule an appointment for a consultation. You can also learn more about this topic by reading the Dear Doctor magazine article "Gum Swelling During Orthodontics."
By Applewood Dental
December 13, 2015
Now in your adult years, you feel you've functioned pretty well even with a few misaligned teeth. You may also think having them straightened at this point may not be worth the effort and expense.
But there are solid reasons — beyond, of course, the psychological and social benefits gained from a new smile — why straightening teeth even as an adult can be a wise investment. Orthodontics not only enhances your appearance but may also improve your long-term oral health.
Restores proper oral function. Teeth that are aligned properly will tend to function properly. Although you can still chew, speak and smile with teeth that aren't quite aligned properly, over time you'll put more stress on both the teeth and the jaws, which could lead to more wear than what normally occurs with aging. By re-aligning teeth to a more normal position you could be extending the life of your teeth and reducing your risk of other functional problems.
Reduces the risk of periodontal (gum) disease. Some people with misaligned teeth are more susceptible to periodontal disease. Besides difficulties with bacterial plaque removal (a must to avoid gum disease), a person with misaligned teeth can also encounter more defects involving bone and gum tissues like gum recession that can contribute to the progression of gum disease. By straightening teeth (and performing plastic periodontal surgery if needed), we can reduce this risk dramatically — as long as we're performing periodontal treatment for existing gum disease before and during orthodontics.
Facilitates tooth replacement. When we lose a tooth, the mouth's natural mechanism is to move remaining teeth to fill the void left by the lost tooth. This can make it difficult to position a dental implant or similar tooth replacement in a functional and aesthetically appealing way. By applying orthodontics to move drifting teeth back into their proper place, we restore the best condition for achieving success with a tooth replacement.
The best way to know how much you could benefit from orthodontic treatment is to visit us for a full dental evaluation. From there, we can help you decide if treatment for straightening misaligned teeth is right for you.
If you would like more information on orthodontic treatment, please contact us or schedule an appointment for a consultation. You can also learn more about this topic by reading the Dear Doctor magazine article "Why Straighten Teeth."
By Applewood Dental
October 14, 2013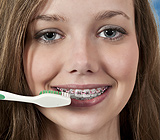 Taking care of your teeth is a lifetime commitment, if you want your teeth to last a lifetime. But it can be especially challenging if you're wearing traditional metal braces. With a little extra attention, though, you can reduce the risk of dental disease during orthodontic treatment.
The goal of oral hygiene is to remove biofilm, a layer of leftover food particles called plaque that is a haven for disease-causing bacteria. Orthodontic braces make access more difficult for performing oral hygiene. A little extra effort and attention, though, can make a big difference.
First, be sure you're eating a healthy diet and avoiding unhealthy snacks (especially those high in carbohydrates) between meals; this will discourage the growth of bacteria in the mouth. You should also limit your intake of sodas, sports or energy drinks since their high acidity contributes to tooth enamel erosion.
Although more difficult for someone wearing braces, brushing is still essential to good hygiene. Begin by holding a soft, multi-tufted bristle brush at a 45-degree angle, and then brush the surface area between the gum and the braces all the way around. Return to your starting point and brush the area from the braces to the edge of the top of the teeth in the same direction. Be sure you do this for both the upper and lower jaw and on both the cheek and tongue side.
Flossing is also more difficult, but not impossible. Instead of conventional floss thread, you can use special floss threaders, small interdential brushes, or an irrigation device that sprays pressurized water to remove food particles between teeth.
Above all, it's important to keep up regular office visits with us. In addition to monitoring overall dental health, we can also apply or recommend additional fluoride products to help strengthen teeth or prescribe antibacterial rinses to reduce the mouth's bacterial level.
Keeping up a good daily hygiene regimen and regular checkups will ensure that the smile you gain from wearing braces is healthy as well as beautiful.
If you would like more information on oral hygiene while undergoing orthodontic treatment, please contact us or schedule an appointment for a consultation. You can also learn more about this topic by reading the Dear Doctor magazine article "Caring for Teeth During Orthodontic Treatment."